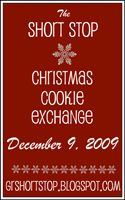 I love oatmeal cookies (but not with raisins), chocolate chip cookies, and anything with cranberries in it. So, I combined a few ideas and came up with these little babies. They have become one of my favorite cookies and one of my most requested recipes. Oh, and I love making them as bar cookies too - it's like a whole other recipe!
what you put in it:
2 sticks butter, softened
1-1/2 cups all-purpose flour
1 cup firmly packed brown sugar
1 teaspoon baking soda
½ cup granulated sugar
1 teaspoon cinnamon
2 eggs
½ teaspoon salt
1 teaspoon vanilla
3 cups oatmeal, uncooked
1 cup dried cranberries
1 cup semisweet chocolate chips
how you make it:
1. Preheat oven to 350 degrees F.
2. Beat together butter and sugars until creamy.
3. Add egs and vanilla; beat well.
4. Combine flour, baking soda, cinnamon and salt. Add to sugar mixture; mix well.
5. Stir in oats, cranberries, and chocolate chips; mix well.
6. Drop by rounded tablespoonfuls onto ungreased cookie sheet.
7. Bake 10 to 12 minutes or until golden brown.
8. Cool 1 minute on cookie sheet and then remove to wire rack.
Makes about four dozen
For bar cookies: Spread batter evenly in an ungreased 13x9-inch baking pan. Bake 30 to 35 minutes.